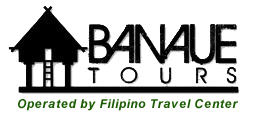 Your leading specialist for all your
northern Luzon travel
Your leading specialist
for all your
northen Luzon travel
Frequently Asked Questions
Q: How many hours is the drive from Manila to Banaue?
A: 8-10 hours travel by private car depending on the traffic and number of (photo) stops. Nearest airport is Cauayan which is a 4-5 hours drive to Banaue.
Please note that flight changes or cancellations might have an effect on the whole tour.
Do you pick-up and drop-off at any hotel or airport in Manila?
For our shared Tours we pick you up and drop you off at any of the two locations.
1. Starbucks located opposite of Shangri-la hotel Makati.
2. Next to Malate Pension at Erras Vest ramen Bar & Grill.
For our Private Tours we will pick you up and drop you off at any place in Manila/Angeles.
What clothing should we bring?
We recommend you bring flashlight, walking shoes, raining gear, sweater, spare - and swimming clothes.
What kind of accommodation do you provide in our seat in coach tours and do the rooms have aircon?
We use the best available accommodation in the area .The best choices are limited to 1 or 2 hotels/pension houses per destination. The hotels/pensions in the mountains do not provide air con rooms since the temperature is much lower than in the lowland. The hotels we use in Vigan, Tinglayan, Subic, Angeles and Tarlac have airconditioning.
How far from Banaue to Batad drop off point( the saddle) and view point in Batad.
It's a 30 minutes travel by jeepney or car and then a 15 min walk to Batad view point.
What activities are available at Batad viewpoint?


Lunch or drinks, if you wish to rest.
Hike to Batad Village. 1,5 hour hike back and forth.
Visit the Tappiyah waterfalls. 2,5 hour hike back and forth.
Cambulo village 3 hours back and forth.
Hike to Banga-an village. 3 hours, then we pick you up there and return to the hotel. In Banga-an village is a restaurant.
Do we need a guide and can we choose our own guide?
The local regulations insist on the need of a local guide. We can request our favorite guides.
Why do you use a jeepney to get to Batad drop off point?
The local regulations insist on using local jeepney's if staying in Banaue hotel. Moreover, this provides local livelihood which we support.
There are many rice terraces. Why you recommend Batad?
Batad rice terraces is a Unesco World Heritage side and offers the best views. It is also the most accessible location from Banaue.
Can we travel to the other rice terraces?
Yes, the journey from Banaue to Mayoyao rice terraces is 1,5 hour ride and Hapao rice terraces is 30 minutes.
Which locations do you recommend driving to after Banaue?
Sagada, 2 hours , Baguio 7 hours, Kalinga (Tinlayan) 2 hours( dry season and 4x4 car) Vigan 6 hours, Tuguegarao 8 hours (If via Kalinga in a 4x4 car, in dry season).
How long are the journeys to the other recommended sites from Sagada?
1,5 hour less than the above journey times.
What are your recommendations for places to visit ?
Sagada offers activities such as caving, rock climbing and is a relaxed place. Kalinga is mystical and untouched.
Vigan is steeped in culture and history.
Baguio, although well known among Filipino holiday makers, only has a few sites of interest, it is over-populated and plagued with traffic jams.

Can the 10 hour trip from Vigan to Manila be broken with stopovers?
You could either fly out from Laoag or you can stay overnight near 100 islands in Lingayan blessed with a nice beach. The attached children's water park is open from Tuesday to Sunday. Or we can make a stop at San Juan, 3 hours from Vigan and enjoy the waves (depending on the season).
Can you recommend a place in the North for beach lovers?
Pagudpud 4 hours travel by car from Vigan and 2 hours travel by car from Laoag has the best beach in Luzon. It is remote, quiet and relaxing but quality accomodation is lacking.
Should we add: Bataan World War 2, Mount Pinatubo or Subic tour to the itinerary when going to Banaue?
Yes we recommend you request us to do so , as all these places are a 2-3 hours travel by car from Manila and would provide a pleasant stopover. Stopovers in Subic, Tarlac or Angeles are also recommended depending on your available time and onward journey plans.
Can I shorten the trip by travelling during the night?
We strongly advise against travel at night. Many road users, such as tricycles, do not carry backlights, roads are unlit. We will only travel at night by using 2 drivers (extra cost). Your safety is our priority.
Why do I see Banaue/Sagada tours offered at lower prices than your company ?
Most of them are not licensed and mostly advertise through local advertising websites. We are accredited by Department of Tourism (DOT), Philippine Tour Operators Association (PHILTOA) & Phillipine Travel Agency Association (PTAA) They use old vehicles and often take on board at least 12 passengers. We have our own car fleet and vehicles are regularly maintenanced in authorized service centers and are all below 4 years old. They drive at night and stay at the cheapest accommodation. We prioritize your safety. They often have "hidden extras". All our prices are all-inclusive. Their driver often does not speak good English and cannot function as a guide as he is not familiar with the mountain area. Our drivers are experienced tour managers and have a long record of safe driving
What makes you different from other tour operators?
If you check on forums and TripAdvisor, you will see that our drivers/guides are one of the best in the industry. We offer our guests free wifi (upon request and subject to availability), newer cars with ipod/iphone connection possibilities, coolbox for your drinks and E-tag for easy access on the toll ways. Your comfort and safety is our concern.
Can we change your suggested itinerary?
You can commence your trip with a day tour to Mt Pinatubo, Subic, Bataan World War II History tour in Bataan, Hundred islands, Vigan or Banaue.
Are you insured in case of a car accident?
Our solid recommendation to any traveller planning a trip to The Philippines is: make buying a general travel insurance policy a part of your planning before you depart-- don't leave home without it as generally liabilities and insurance coverages are extremely basic and limited here in The Philippines.
What method of payment do you prefer?
Refer to https://www.filipinotravel.com.ph/payment-options/ for our payment options.